Proper online etiquette isn't just something to consider teaching your tweens, it's crucial for solidifying their digital safety.
Parents, have you ever heard of "subtweeting?" Are you aware that college administrators and potential employers sometimes look at candidates' social media profiles? Do your kids know what to do when they see someone getting bullied online? Below, see 8 essential rules of Social Media etiquette (or "Netiquette"), laid down by bloggers, consultants and authors. 
By Steven Woda for uKnowKids.com
With college administrators and employers often checking candidates' social network profiles and tweens and teens online more than ever before, it's extremely important to ensure that your tweens and teens are representing themselves online appropriately. Social Media "Netiquette" consists of a variety of factors including language used, tones emitted through word choice and sentence structure, and the manners in which people conduct themselves when posting behind screens (especially when done anonymously).
Luckily, teenagers admit that social media etiquette is an important factor in their lives. A recent Teen Trend Report from a Stage of Life survey found that 91% of teens indicate that civility, manners and etiquette are either "important" or "very important" to them. 69.3% (the majority) of teens say that they learn "bad manners" from the media, whereas 97% of teens expressed that they learn their "good manners" at home.
With uKnow's Social Media Etiquette Twitter Party around the corner, we asked social media bloggers, consultants, and authors about their top concerns and rules for teens' and tweens' social media 'netiquette'. More than anything, the contributors emphasize how easy it is to be offensive online, whether someone is intending to offend or not. See what they believe are the most important facets of social media etiquette.
1. Post for Your Future
"From a career point of view, teens are quite flippant about what they share on social media, and that might concern a prospective employer in the future.
X-rated and offensive pictures, as well as aggressive and even illegal comments can scupper a teen's chances of getting a job in the future. Teens should protect themselves by thinking before they post".
Lauren Riley, Social Media & Marketing Manager of Bubble Jobs Ltd
2. Employ a Positive Online Tone
"Social media is YOUR brand. Use social media for the greater good. Connect with your favorite musicians and people you admire. Don't waste1 energy hiding behind a screen making negative comments to people".
Kim Schultz, Bob Weir's TRI Studios
3. Don't Post to Self-Promote
"Teens should remember that there's more to social media than the number of followers you have. It's OK topost an Instagram photo without using #follow, #instalike, #tagsforlikes, etc. as your hashtags. By demanding likes and followers, teens misuse social media and use it to boost their own vanity. It's not wrong to post a selfie now and then, but it's good to also think about what you can contribute, not only what you can take".
Lisa Parkin, President of the Social Media Consultancy The Social Climber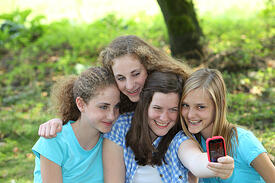 "Teens today have grown up with easy access to other people's opinions of them. Often times, those opinions foster feelings of insecurity. Interactions on social media can become unhealthy forms of validation. Many teens I've worked with tell me that on social media it's common that they will upload a photo, and delete it if it doesn't get a certain number of 'likes' or 'comments.' This is concerning, as it can get dangerous to so closely tie your self-worth with 'likes' on a photo."
Michelle G. Lopez, Digital and Design Editor for The Mash, Chicago Tribune's Teen Edition
4. Avoid Sub-Tweeting
A trend that Common Sense Media has noticed, particularly among teens, is "subtweeting." It's when kids use social media to bad-mouth or gossip about someone without naming the person directly, but use identifying language, descriptions, or characterizations so everyone knows who is being discussed. This is a form of cyberbullying that not too many parents are aware of it because it has developed as a way for kids to avoid the consequences for their actions.
Subtweeting is very insidious because it has plausible deniability: The victim is not named, so everyone can claim they weren't really talking about that person.1 Kids – more often girls – use subtweeting to isolate and gang up on their victim, and it's really difficult for the victim to rally kids to his or her defense because – again – he or she is not being explicitly named.
At Common Sense Media, we believe it is crucial for parents to talk to their kids about subtweeting and also dig a little bit to find out if it's happening in their kids' social circle. It's also really important as a parent to be informed about the different roles that kids play in cyberbullying – there's the victim/target, the bully (or lead perpetrators), and the bystanders. Bystanders may be casually interested and simply checking in on the social media conversation to be aware of what's going on and to make sure that they don't suddenly become targeted themselves.
It's key for parents to stress how important it is for their kids to switch from the role of bystander to "upstander" – the person who stands up to the bully and for the victim. Research has demonstrated that a peer standing up for a peer is one of the most effective ways of changing the dynamic in a cyberbullying situation.
Be an "upstander", not a bystander. If you witness someone being bullied online, don't just stand by and let it happen. You can help support the victim by either standing up to the bully or telling a trusted adult such as a teacher, parent or coach.
Caroline Knorr, Parenting Editor at Common Sense Media
Go to http://www.commonsensemedia.org/cyberbullying for tips on standing up to cyberbullying. You can also download Common Sense Media's free cyberbullying toolkit at http://www.commonsensemedia.org/educators/cyberbullying-toolkit.
5. Don't Attempt to Flirt Via Sexting
"Flirting and impulsive choices are in the job description of anyone with 'teen' in their age. It has been that way since the beginning of time, but the major difference between current generations and previous ones is that now everyone has a camera with them at all times.
As a therapist and sex educator, I believe one of the biggest concerns underagers need to understand in light of this variable is that any naked image of anyone under the age of 18 can be defined as child pornography on a Federal level – even if it is their own naughty bits. Every single female client I have had in my office in the last seven years has had at least one guy send an unsolicited, inappropriate picture to her on her phone.
Sexting is not only illegal in many states, but it is also a revolting way to flirt. It is more legitimate to ask someone out via text message, though you score points for bravery, class, vulnerability and romance if you can cowboy-up and do it in person".
Jo Langford, author of The SEX EDcyclopedia and blogger for beheroes.net
6. Think About the Faces Behind the Screens
"Exercise empathy, not apathy. When people post anything, it's usually because they identify or align with what they're putting forward in some way. Don't be quick to judge, call out, or criticize; recognize that it's all coming from somewhere".
Vincent Ferrer, Social Media Strategist for Graphic D*signs: The Small Business Advertising Agency
7. Be Conscious of What You're Posting
"Working in the area of social media and Internet safety for kids, I've found in my experience that kids aren't aware of the words that they post on social media are damaging not only to them, but to others. That could be attempts at humor gone wrong, gossiping about someone, and venting about a situation. They aren't fully aware of how public their words are or the big picture of the impact of what they have said. Social media is a word of mouth with a megaphone. And once it is out there, it becomes part of their digital footprint.
Have regular, open conversations with your teen about what is being said on social media by asking them to identify with how they feel when others say mean things to them. Encourage them to be aware of their words and actions. The old adage of 'stick and stones may break bones, but words never hurt' doesn't really work; words definitely do hurt."
Ann Marie van den Hurk, Principal of Mind The Gap Public Relations, LLC and author of Social Media Crisis Communication
8. Don't Lose Yourself in Anonymity
"Many anonymous, secret-sharing apps like Whisper, Secret, and Truth are currently trending. I worry about anonymity on the web and the popularity of apps like these.
Anonymous secret-sharing online opens the gates for a whole different brand of cyberbullying. These apps encourage users to express their true feelings for the world to see. This mentality can be very dangerous, as anything written that is hurtful or malicious doesn't require ramifications, making teens more likely to post negatively. It's also one thing for a rumor to spread among people, but to have a secret or rumor exposed and magnified across friend groups at once strengthens the power and access of the gossip. These factors combined make anonymous, secret-sharing apps extremely disconcerting.
Talk to your kids about how rumors or secrets spread through these apps can be damaging. Some things are simply better left unsaid."
Tim Woda, Co-Founder and Senior Vice President of uKnow
Although teens and tweens aren't the only people who use poor social media etiquette, it is important to instill netiquette in them in order to curb the prevalence of sexting, cyberbullying, and other online dangers. No one wants their tweens to provoke a situation online that could negatively impact their lives or the lives of people around them. Proper online etiquette isn't just something to consider teaching your tweens, it's crucial for solidifying their digital safety.
Sources:
Teen Trend Report: Where Has Civility Gone? Stage of Life. 2013. <http://www.stageoflife.com/StageHighSchool/TeensandCivility.aspx>.